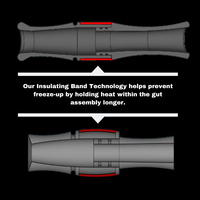 Solving a frustrating problem...
When hunting on frigid mornings, we always ran into the same problem, our calls would freeze up. We knew others probably faced the same frustrations.
After some careful thought, and quite a bit of field testing, we developed our insulating band technology.
Our insulating band technology helps prevent freeze-up by holding heat within the gut assembly longer
Behind the Legend. . .
Legend Calls is an outdoor products company looking to help inspire each persons inner legend. We fully believe in conservation, the ethical pursuit of wild game, and traditions passed down from generation to generation. 
Like most of us, it all started when we were barely tall enough to kick brush with our parents and grandparents. These early experiences planted a seed that developed into a deep passion for the outdoors. From laying under white bed sheets in stubble fields in pursuit of snow geese to kicking cattails in search of deer or pheasants, or chasing elk in the great rocky mountains. All these experiences are burned into our memory and helped mold us into who we are. We believe it is very important to keep passing down these incredible outdoor experiences to our children so we can keep ongoing and invaluable "Legendary" traditions alive.